The complex devices all around us — from long-range satellite links in our cars and offices to powerful computers in our hand-held gadgets — prove beyond a doubt that we live in a technology-driven world. In the field of dentistry, new technology is constantly changing the way diseases are diagnosed, routine procedures are performed, and illnesses are prevented. Although they may seem unfamiliar at first, new and improved dental technologies offer plenty of real benefits for patients. Here's a look at some of the latest examples, coming soon to (or now appearing at) a dental office near you.
Air Abrasion Technology. Bothered by the noise and vibration of the dental drill? This air-powered device could make that familiar high-pitched whine a thing of the past! Working like a mini-sandblaster for teeth, this hand-held device removes tiny amounts of tooth material with precision control.
Anesthesia Wand. If you don't like needles, this may be just what the doctor ordered: a pen-like device that meters out the precise amount of anesthetic you need — and even pre-numbs the insertion site, so you really won't feel a thing!
CAD/CAM Same-day Crown Fabrication. Hate to wait? By combining 3-D digital imaging and computer-aided design and manufacturing technology, it's now possible to have permanent crown restorations completed in a single day — much better than leaving the office with temporary crowns and coming back weeks later for permanent ones!
Cone Beam CT Imaging. What's better than an x-ray of your teeth? An on-screen, movable 3-D representation of your jaws! By taking a series of x-ray "slices" and stitching the images together with a powerful computer program, Cone Beam CT imaging creates a virtual model of your mouth. It can be used to find disease, plan procedures, and visualize internal structures that formerly wouldn't have been visible without surgery.
Dental Implants. Tooth replacement took a giant leap forward with the widespread use of dental implants — today's preferred method of replacing teeth. Dental implants are small titanium posts that replace the root part of your missing tooth. A realistic dental crown is then attached to the implant for a replacement tooth that looks and feels exactly like what nature gave you.
Digital Dental Impressions. Remember biting down on a tray of putty-like material, so a model could be made of your teeth? A digital imaging device now makes that unnecessary. Instead, your teeth can be "dusted" with a fine reflective powder, which is then recorded by a special camera. A series of images is converted into a 3-D model, which can be used to assess a tooth's condition or fabricate dental restorations.
Digital X-Rays. Diagnostic x-rays have long been invaluable to dentistry. The emergence of digital technology in the past decade, however, has made dental x-rays safer and even more useful. Digital technology cuts radiation exposure to patients by as much as 90% over traditional x-rays. And there are other advantages including the elimination of waiting time for pictures to develop, and sharper images that can be enhanced instantly to show detail.
Intra-Oral Camera. A picture is worth… plenty, when it comes to helping you understand your dental examination, diagnosis and treatment! With these tiny cameras, you can see what the dentist sees, on a small chair-side monitor. The images of your teeth can be saved as stills or video — or even printed out — so you can see exactly what's happening in your mouth.
Laser Diagnosis and Treatment. They're inside DVD players and scanner wands — and now, they are making their dental debut. Lasers are being used to detect tiny spots of tooth decay, treat gum disease, and remove cancerous cells in the mouth. They are also employed in gum surgery… even cavity treatments!
Same-Day Crowns (CAD/CAM)

A tooth that has been structurally damaged by decay or trauma sometimes needs to be crowned or "capped" so that it can look good and function properly again. A crown is a durable covering that is custom-made to fit over the entire tooth from the gum line up. Crown fabrication traditionally takes place in a dental laboratory. But these days, there's a much more convenient alternative: same-day crowns made in the dental office.
Advanced dental technology known as Computer-Aided Design/Computer-Aided Manufacturing, or CAD/CAM, makes it possible to fabricate laboratory-grade crowns and other dental restorations in minutes. It's an amazing innovation when you consider that traditionally, crowns take two or three visits and just as many weeks of waiting. Now you can have a restored tooth without the wait.
Best of all, studies have shown that CAD/CAM tooth restorations are just as successful as crowns made with traditional materials and techniques. And the amazingly lifelike appearance of a same-day crown means that no one will know your tooth has been restored.
How It Works
The process of crowning a tooth starts out the same way, whether it's a same-day crown or traditional crown: with "preparation" of the tooth. This involves removing any decay that's present, and shaping the tooth with a dental drill so that it will fit perfectly inside the crown. But the similarities end there.
If you were getting a traditional crown, the next step would be to take an impression (mold) of your teeth with a putty-like material, and use it to construct a model on which to create the crown. With a same-day crown, your teeth are simply given a light dusting of reflective powder and then a small scanning wand attached to a computer is used to take digital pictures inside your mouth. In seconds, the computer will generate a highly accurate 3D model of your teeth. But it gets even better.
With the help of the CAD/CAM software, your crown will be designed while you wait. The software can even be used to create a mirror-image twin of the same tooth on the other side of your mouth, for the most natural-looking result possible. Then a block of dental ceramic material is chosen in the shade that most closely matches your own teeth. The computer's digital design is transmitted to a milling machine that carves the crown from the ceramic block in about five minutes.
Once the crown's fit has been verified, and any necessary aesthetic enhancements have been made to the crown's surface (staining and glazing, for example), the crown will be bonded to your tooth. With a traditional crown, you would have to wear a temporary restoration for several weeks while the permanent crown was being fabricated at the lab. With a same-day crown, you walk out with the real thing.
Caring for Your Same-Day Crown
Crowned teeth require the same conscientious care as your natural teeth. Be sure to brush and floss between all of your teeth — restored and natural — every day to reduce the build-up of dental plaque. When you have crowns, it is even more important to maintain your regular schedule of professional cleanings at the dental office. Avoid using your teeth as tools (to open packages, for example). If you have a grinding habit, wearing a nightguard would be a good idea to protect your teeth and your investment. A well-cared-for same-day crown will last for years to come.
Laser Dentistry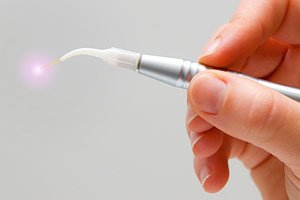 They are inside your laptop computer and your DVD player, present on the factory floor and the supermarket checkout line. And now, lasers are finding increasing use in dentistry. Someday soon, you may have a routine dental procedure performed with the aid of a powerful, yet highly controllable beam of laser light, instead of a drill or a probe.
What are dentists currently using lasers for? These devices have been proven to help in the detection and treatment of oral diseases. They can be used for treating gum disease, detecting cancer, and pinpointing tooth decay in its early stages. They can precisely remove tissue, seal painful ulcerations like canker sores, and even treat small cavities. In the future, dental laser technology will undoubtedly find even more applications.
How Do Lasers Work?
Lasers take advantage of the quantum behavior of electrons, tiny particles inside atoms. By stimulating atoms with pulses of energy, and then using a method of optical amplification, they cause the atoms to produce a beam of coherent light. Essentially, that means that they emit light which has a great deal of energy, yet can be precisely controlled. It's the combination of high energy and precision that make lasers so useful.
Where Are Lasers Being Used?
At present, the use of lasers in dentistry falls into three general categories: disease detection, soft tissue treatments, and hard tissue treatments.
There are many ways lasers can aid in diagnosis. Laser light of specific wavelength, for example, can detect tiny pits and fissures in the biting surfaces of the tooth that a traditional dental tool can't find. This enables a defect that's too small to be treated at present to be carefully monitored. Lasers can also help locate dental calculus (tartar) beneath the surface of the gums, and can even aid in the detection of oral cancer in its early stages, accurately showing where healthy tissue ends and diseased tissue begins.
For the treatment of soft tissue problems, lasers have many advantages. They are minimally invasive tools that generally involve taking away less tissue than conventional methods. Used in gum surgery, for example, lasers can treat gum disease by killing harmful bacteria deep in pockets below the gum line, and removing the diseased tissue without harming the healthy tissue. They can also remove the thin layer of cells that inhibits reattachment of the gum and bone tissues to the tooth, while sealing off the adjacent blood vessels. This type of procedure generally results in less bleeding and pain. Lasers are also effective in treating ulcers and sores on the lips or gums.
Lasers are even finding increasing use for hard-tissue procedures, like the treatment of dental caries and cavities. Not only are they more exact in the amount of material they remove, but they eliminate the noise and vibration of the dental drill, which is uncomfortable for some patients.
As lasers become more common in the dental office, these high-tech tools will be integrated into routine dental practice. This promising technology already offers some real benefits, and is sure to find increasing use in the near future.
Laser Decay Diagnosis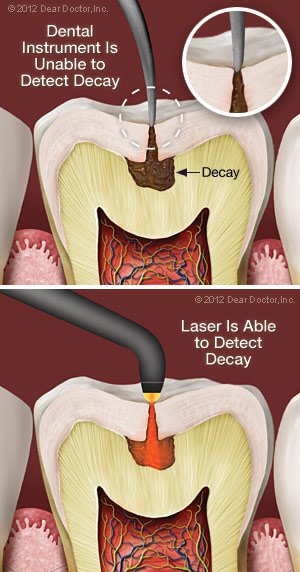 Laser technology is becoming quite commonplace in a wide variety of areas throughout the healthcare industry; but did you know that it can now be used to detect tooth decay? Today, using a small, handheld device, it is possible to detect tooth decay that is not yet visible and would otherwise be undiagnosed by conventional methods alone.
Plus, traditional methods of detecting tooth decay are much more accurate and efficient when laser technology is included by your dentist. You can expect:
dramatically improved early cavity detection
reduced size and possibly number of fillings that might be needed, thus possibly lowering the cost of dental treatments
reduced chances of unnecessary exploration of teeth that are suspected to have cavities
Here's how it works
Using this noninvasive technology, your teeth are scanned to examine their structure. Laser cavity detection is based on the fact that healthy tooth structure reflects light, or "fluoresces," differently than does decayed tooth structure. Healthy teeth will have little-to-no fluorescence while teeth with decay display with a higher level of fluorescence. And the higher the fluorescence, the more advanced the tooth decay. Once the scan is complete, the fluorescence readings are converted into a digital numeric output. You will also "hear" when you have decay present, as changes in fluorescence and numeric value are emitted as an audio signal that goes up in tone as it denotes the presence of decay.
Why is this so important?
Tooth decay may be more difficult to detect today than it was in the past. Why? It's probably due in part to improved oral hygiene, and, ironically, the increased use of fluoride in toothpaste and in tap water. While fluoride has proven invaluable at protecting teeth by hardening their outer enamel surface, that increased hardness can sometimes conceal even aggressive decay. As a result, tooth decay can be difficult to find, even with the use of traditional x-rays.
Furthermore, prior to using a laser scanner, dentists depended upon x-rays and using fine picks to identify cavities. However, using laser technology provides about a 90% accuracy rate for identifying suspicious areas and cavities. This translates to earlier detection, less tooth structure loss resulting in stronger teeth, less time spent in the dental chair, and, ultimately, a financial savings to you.
Intra-Oral Camera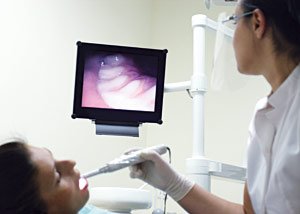 The intra-oral camera is a valuable tool dental professionals can use to help you understand your examination, diagnosis and treatment. This small, handheld video camera is about the same size as a dental mirror (or an oversized pen) and comes with a disposable plastic sheath for contamination prevention. It is used to take actual pictures of your teeth with up to 25 times magnification and project them onto a screen for your review. It can also be used to give you a video tour of your entire mouth so that you can see things such as plaque deposits, decay, worn teeth, and broken or missing fillings. Lastly, pertinent images can be printed for your patient file for future reference — or even for you to take home.
A Picture Is Worth a Thousand Words
This adage is proven true many times each day in offices equipped with an intra-oral camera. Prior to the development of this technology, some patients found it challenging to understand problems such as dental decay and periodontal disease. Now, it's possible to display, pause, and zoom in during a video examination of the problem area, so that you can see it for yourself — all in color and crystal clear.
Advantages of an Intra-Oral Camera
An intra-oral camera makes you more of an active partner in your dental treatment, enabling you to see what a dentist sees — an especially important benefit when additional treatments need to be discussed, or when treatment options must be explained — so that you can make informed decisions.
You may be more comfortable asking questions and better able to understand a treatment option or oral hygiene concern when you can actually see it.
Because it gives you the real-world picture of your dental hygiene, the intra-oral camera is ideally suited to show you techniques for improving your oral health and hygiene habits.
With its powerful magnification (much superior to the naked eye), it reveals the early stages of maladies such as gum disease and cavities.
The images can be captured and reexamined later, to show you changes in your oral health and hygiene or how a multi-phase treatment is progressing.
Furthermore, it can provide insurance companies with the proof they require to approve a needed treatment.
Air Abrasion
In the future, could small cavities be detected early and filled without anesthesia, and with only the minimum removal of tooth material? Will routine dental procedures be performed with patients noticing no vibration or pressure? Will the piercing whine of a dental drill be a sound that's heard in dental offices no more? The answer may well be yes — in fact, it's happening right now with air abrasion technology.
The air abrasion instrument is a hand-held tool that dentists use for a variety of purposes. A bit like a mini-sandblaster, it uses compressed air (or another gas) to produce a fine stream of abrasive particles that can be precisely aimed. The small, high-speed particles (often silica or aluminum oxide) remove tiny bits of material in the decayed portion of the tooth; the debris is then whisked away through a suction tube.
Sound futuristic? It is, but it's not exactly new: Air abrasion instruments were first developed in the 1940's, but recent advances in high-volume suction and improved dental restoration materials have given the process a renewed appeal. Some of the uses for air abrasion tools include: removing dental caries (cavities) and filling them with composite (tooth-colored) material; preparing teeth for bonding, veneering or other procedures; and removing stains or even repairing small defects in teeth.
How It Works
The tiny abrasive particles (.002" or less in diameter) remove only minute amounts of tooth structure, making a drill seem coarse by comparison. The air pressure, flow rate, nozzle diameter, and other settings on the instrument can be accurately controlled to produce the precise amount of abrasion needed. The result is a minimally-invasive method of removing decayed or unwanted tooth material.
Even though powerful suction is used to remove spent abrasive and debris, it's still necessary for everyone to wear protective eyewear as a precaution. A rubber dam (shield) is also generally used to keep abrasive particles from affecting other teeth or getting into areas of the mouth where they don't belong. Nearby teeth and gums can also be coated with a protective resin if needed.
Advantages of Air Abrasion
Because it doesn't require a whirring drill, air abrasion generates no pressure or vibration, and makes very little noise. It can eliminate the need for anesthesia, especially if the cavity isn't deep. It reduces the chance of damaging the tooth during a procedure, and it leaves more healthy tooth material behind. This makes it ideal for children, or others who are sensitive to dental discomfort. In fact, it's perfect for treating tiny cavities that have been detected by laser diagnosis (cavities that aren't big enough to be seen on an X-ray), and sealing them up before they become bigger problems.
Minimally-invasive procedures are where air abrasion truly shines. Because it's a relatively fine-scale instrument, it isn't suitable for treating deep cavities or removing old metal fillings. However, as a high-tech tool for performing many preventive and restorative dental procedures, it offers some unique benefits to both dentist and patient. And some day, it just might make the dental drill obsolete.
Digital X-Rays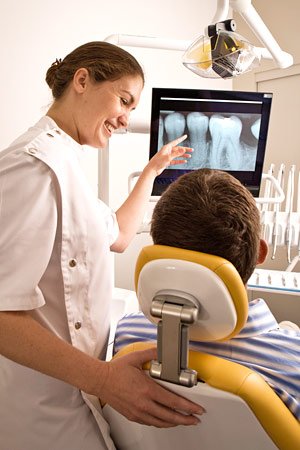 It's almost impossible to imagine the practice of dentistry without x-ray technology. Radiographs (x-ray pictures) allow dentists to diagnose and treat problems not yet visible to the naked eye, including early tooth decay, gum disease, abscesses and abnormal growths. There is no question that since x-rays first became available a century ago, this diagnostic tool has prevented untold suffering and saved countless teeth. Now, state-of-the-art digital x-rays have made the technology even safer and more beneficial.
Digital x-ray technology uses a small electronic sensor placed in the mouth to capture an image, which can be called up instantly on a computer screen. When digital x-rays first became available about 20 years ago, they immediately offered a host of advantages over traditional x-ray films, which require chemical processing. Most importantly, they cut the amount of radiation exposure to the dental patient by as much as 90%. While faster x-ray films have been developed over the years that require less exposure, making that difference less dramatic, a digital x-ray still offers the lowest radiation dose possible.
Advantages of Digital X-Rays
Besides minimizing radiation exposure, digital x-rays offer numerous advantages to dentists and patients alike. These include:
No chemical processing & no waiting. Because there is no film to process with digital x-rays, there is no waiting for pictures to develop — and no toxic chemicals to dispose of. Your dentist can immediately show you the pictures on a computer screen for easy viewing.
A clearer picture. It's possible to get more information from digital x-rays because they are sharper and can be enhanced in a number of ways. The contrast can be increased or decreased, and areas of concern can be magnified. It's even possible to compare them on-screen to your previous x-rays, making even the minutest changes to your tooth structure easier to detect.
Easy sharing and storage. Digital x-rays provide a better visual aide for you, the patient, to understand your diagnosis and treatment options. They can be e-mailed to different locations; they are also far less likely to be misplaced.
X-Rays and Your Safety
While digital technology has minimized the health risks of x-rays, it has not entirely eliminated it. X-rays are a type of radiation used to penetrate the tissues of the body to create an image. In doing so, there is always a slight possibility of causing changes at the cellular level that might lead to future disease. Of course, there are sources of radiation present in the daily environment — the sun, for example — that can also cause disease. It's important to note that the chance of this happening is thought to be cumulative and not based on a single exposure. Still, x-rays are not considered risk-free regardless of how technology reduces your exposure. That's why dentists will only use them when the benefit of obtaining better diagnostic information outweighs the procedure's small risk. This is particularly true of computed tomography or CT scans, which can raise the level of exposure, yet yield a tremendous amount of information per scan. No matter which technology is being used, each case is considered individually, and your safety is always paramount. If you have questions about why an x-ray is being recommended for you, please feel free to ask.
Digital Dental Impressions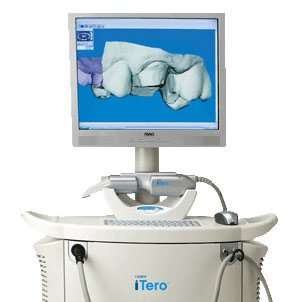 For years, whenever you needed a dental crown (cap), your dentist had to make molds of your teeth which required taking an impression of your teeth. A tray filled with a goopy, putty-like material was used so that a three-dimensional model of the prepared tooth could be created. Using this mold, a dental lab could custom-craft the new crown.
However, as we journey further into the technology-driven 21st century, this traditional methodology is being replaced with virtual models — made using small, handheld "wands" that employ a digital camera and some reflective dust.
Here's how it works
The initial phase of restoration, preparing the tooth surface, remains virtually the same. First, any dental decay must be removed, and the remaining tooth must be shaped so that a crown or filling can be fitted properly. This will allow the tooth to be restored to its original shape, look, and function. Next, the area is lightly dusted with a reflective material (not a goopy impression material) so that multiple images of your tooth's surface can be recorded with a small scanning wand. Later, the computer component is connected to the scanning wand and these separate images are combined into a computer-generated 3D image.
This remarkable tool uses blue wavelength light to precisely capture the unique nooks and crannies of your tooth's surface and make a highly accurate 3D digital model. It makes it possible to instantaneously examine your tooth, and your bite. It's possible to identify any additional prep work required for new crowns, veneers and fillings right then and there; to implement any needed changes; and to rescan the tooth to create a new series of images and 3D model.
Once the image capture and prep work are satisfactory, your images are sent on to the lab for fabrication. This technique makes it possible to create a crown or a filling that can often be completed during a single office visit.
How this technology benefits you
Finally, you can say goodbye to the goop, gagging, discomfort, and anxiety you've experienced in the past with traditional dental impression materials!
It enables the immediate assessment of whether or not your tooth has been properly prepared for restoration.
This technology is ideal for fabricating restorations such as new crowns, veneers and fillings for teeth — often possible in one office visit.
It takes less time than traditional dental impressions.
Cone Beam CT Imaging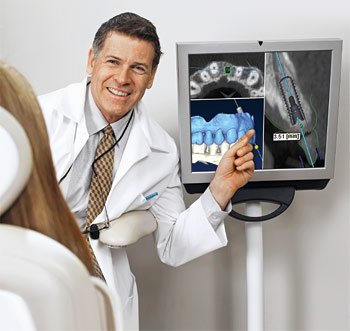 In the early 20th Century, not long after X-rays were discovered, medical professionals recognized their value as diagnostic tools: They could clearly reveal structures hidden inside the body without the need for risky surgery. At the dawn of the 21st century, a revolutionary new technology has entered the diagnostic arena. Today, Cone Beam Computed Tomography (CBCT) promises to change the way many dental problems are diagnosed and treated.
Cone Beam CT has some similarities with conventional X-rays, and also with the standard CT scans you would get in a hospital setting. But it's a quantum leap forward in technology and diagnostic precision. For the dentist, it offers the ability to visualize intricate structures inside the mouth, such as root canals, nerves and sinuses (air-filled spaces) in the jaw — in three dimensions — without surgery. For the patient, it can reduce the need for invasive procedures, shorten treatment time and offer the chance for a better outcome.
The detailed diagnostic images that CBCT provides have made it an essential tool in many dental specialties. But, as with any diagnostic tool that uses radiation, the medical benefits offered must be weighed against the (small) potential risks of the procedure.
How Cone Beam CT Works
X-rays, like visible light, are a form of energy on the electromagnetic spectrum. Just as light makes an image on photographic film (or a digital camera sensor), X-rays can also form an image. The difference is that energetic X-rays can penetrate bone and soft tissue, and reveal its hidden structure by their varying degrees of absorption; in other words, they form a grayscale picture of what's underneath the surface. But conventional X-rays are limited: Like a still-life picture, they show only one perspective on the scene.
Now imagine a "flip book" — the kind of small book made up of a series of pictures, each slightly different. When you rapidly page through it, you may see (for example) an animated cartoon or a still subject from different perspectives. If you could put together a flip book made from a series of X-ray "slices" of the same subject, taken at slightly different angles, you would be able to create an "animation" of the X-rays. And from there, it's only one more step to making a 3-D model.
That's exactly what CBCT scanners do. Using a rotating imaging device that moves around the patient's head, the scanner records between 150 and 600 different X-ray views in under a minute. Then, a powerful computer processes the information and creates a virtual model of the area under study. When it's done, the model appears as a three-dimensional image on a computer screen: It can be rotated from side to side or up and down, examined in greater or less detail, and manipulated in any number of ways — all without the patient feeling any discomfort… or even being present.
Where Cone Beam CT Is Used
The ability to see fine anatomical structures in 3-D has proven invaluable in treating conditions in many areas of dentistry.
Orthodontics: Having accurate information on the position of teeth and jaws helps determine exactly how and where teeth should be moved.
Dental implants: Detailed CBCT images are used to determine the optimum location for the titanium implants while avoiding nerves, sinuses and areas of low bone density.
Orthognathic Jaw Surgery and Temporo-mandibular Joint (TMJ) Disease: Patients benefit when the specialists who treat these conditions can evaluate their anatomy with the three-dimensional perspective that cone beam CT provides.
Oral Surgery: Treatment for tumors or impacted teeth is aided by the level of fine detail shown in these scans.
Endodontics: Dentists performing intricate procedures (like complex root canals, for example) can benefit from a clearer visualization of the tooth's anatomy.
Sleep Apnea: Imaging the tissues and structures of the nose, mouth and throat can aid in diagnosis and treatment of this dangerous condition.
Could Cone Beam CT Benefit You?
Each patient's situation is different, and must be carefully considered by a clinical professional before any test or procedure is performed. While CBCT delivers a smaller dose of radiation (X-rays) than many other diagnostic tests, it still carries a small risk — particularly for younger patients, or those with other health problems. As is the case for any medical procedure, all risks, benefits and alternatives are taken into account before the procedure is recommended.
Anesthesia Wand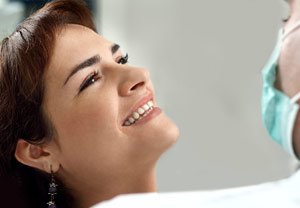 If you've ever had needle phobia, you might like to learn about a new technology referred to as an "anesthesia wand," which is a computer-controlled dental-injection tool. In fact, some people feel it is more of a "magic" wand because it doesn't look like a typical injection and it works even better by making the entire process virtually painless.
Here's how it works
Your anesthesia will be delivered through a syringe-free wand or pen-like device that is connected to a computer. Before the tiny needle attached to the wand is inserted, the computer delivers a small amount of anesthetic so that the insertion site starts going numb before the needle enters the skin.
Once the needle is in place, the computer delivers an accurate, consistent amount of anesthesia so that you remain comfortable — typically below the threshold of pain. The computer's microprocessor automatically adjusts the injection pressure for different tissue densities, maintaining a constant, comfortable flow of anesthesia. This is important because the culprit with most injection anxiety is discomfort from anesthetic being injected too quickly, not from the needle entering the skin.
What are some advantages of using an anesthesia wand?
One of the most important advantages is that it doesn't look threatening, as it eliminates the initial anxiety upon seeing a syringe.
It can be used in conjunction with other conscious sedation methods (i.e. nitrous oxide) for a more comfortable treatment.
It provides painless injections for all routine dental treatments including root canals, crowns, fillings, and cleanings.
With the wand, you will receive a more consistent and comfortable injection, especially in more sensitive areas such as the front of your mouth or in your palate (roof of your mouth) where tissue is less elastic.
Due to the wand's penlike grasp, it is easier to handle, rotate, and accurately glide the wand into precise, hard-to-reach places to deliver anesthetics.
Last but not least, many people who previously experienced a fear of injections are able to overcame their fear after the first use. This provides them with a better, less stressful dental experience.
Meet Your Top-Rated Family Dentist in Spokane Valley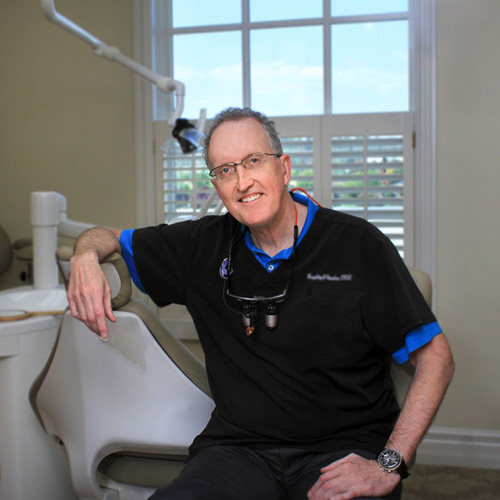 Bradley J. Harken, D.D.S.
The Proof is in our Patients
This will be my new dentist. I needed an emergency appointment, and they told me to come in right away. They were so friendly and Dr. Harken made me feel comfortable. They made me feel like they really cared that I was in pain. They worked with us on payments to get the root canal that I needed, and I left that office pain free!! From the receptionist to the dentist, everyone was awesome. I highly recommend going there!!!
The hours attracted me to this office, I just can't take the time off work for the amount of work that I need done over the next couple of years so Saturday appointments are extremely nice. I have had a few major things done - most recently a root canal and every thing they have done has been great
The staff is gentle, knowledgeable and helpful. I really love the convenience of the hours they are open. They work with me financially. Overall...a great dental experience.
Our Spokane Valley Office
13314 E Nora Ave, Spokane Valley, WA 99216
Wednesday
9:00 AM – 5:00 PM
Thursday
9:00 AM – 5:00 PM
Saturday
7:00 AM – 6:00 PM
The Ultimate Patient Experience